What are the advantages of the road surface profiler?
Views:1 Author:Site Editor Publish Time: 2020-08-06 Origin:Site
There is no doubt that road profilers can play a big role in road safety, but do you know which stage of the road profiler technology is now in progress? How should I choose a road surface profiler?

What is the road surface profiler?

How does the road surface profiler work?

Why do you need a road surface profiler?

How to choose a road surface profiler

The main benefits of a new generation of road surface profiler
What is the road surface profiler?
A pavement profiler is a metrology instrument used to characterize the top layer of a product. It is a multi-point measurement that takes into account the main form of the material and the submicron (μm) texture changes on its surface, which are usually characterized by size fractals and surface roughness. These features may aid in orientation or patterning, which may have a significant impact on the physical properties of the material being viewed.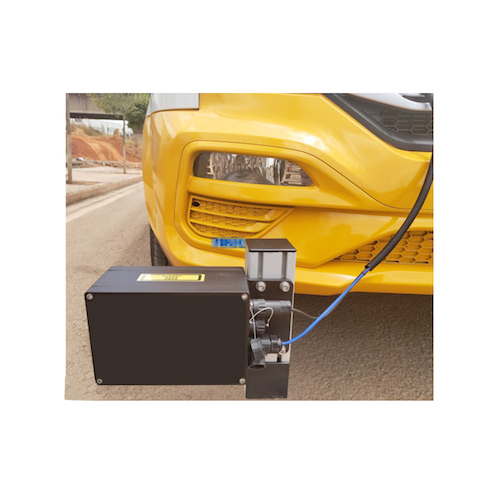 The two key terms of the surface profile are anisotropic and isotropic surfaces. These refer to materials with or without distinct orientation layers or distinct orientation patterns, respectively. Surface profilometers typically use one of these principles in conjunction with numerous other metrology techniques. These textures can be measured to control the quality of the product or to measure the effects of sustained performance wear on the surface of the mechanical component.
How does the road surface profiler work?
The pavement profile uses a high-precision data acquisition component to measure the unique characteristics of the product substrate at the nano, micro, and macro scales. This is done by contact or non-contact methods. These measurement principles are commonly used in process control applications, especially to evaluate the continuous performance of mechanical mating surfaces such as shafts and bearings. Due to friction-induced defects and reduced lubricants, progressive wear can double the effectiveness of the device. The surface profile of sensitive optical lenses is also periodically evaluated to monitor batch-to-batch consistency of different proportions of optical components. The pavement profilometer eliminates the uncertainty associated with any assessment of the surface topography of the product and achieves previously unpredictable levels of precision in industries where surface interactivity is a key indicator of product performance.
Why do you need a road surface profiler?
The surface roughness of the pavement has been considered an important parameter in determining the maintenance and repair requirements of the road network. In order to reliably predict roughness conditions, an objective and repeatable profiler must be used. However, most road departments, especially local governments, often monitor and determine road conditions through visual inspections. The new mobile pavement profiler collects data more efficiently and monitors road roughness in real time. The study also presented a profilometry experiment to verify the accuracy of the new profilometer used for roughness data collection and demonstrated its benefits for pavement monitoring of local roads through a case study.
The Pavement profiler measures many indicators and features, including longitudinal profiles, International Roughness Index (IRI), Multiplier (RN), Lateral Profile and Macro Texture. The Pavement profiler System also provides data for Boeing Bump Index calculations. RSP's unique "stop-and-go" feature allows equipment to operate efficiently in urban areas, traffic lights, stop signs, intersections and roundabouts, making it an ideal tool for data collection in urban and rural networks. The pavement profilometer equipment meets the accuracy of ASTM E950 Level 1, AASHTO R57 and state road standards such as the Tex-1001-S, ensuring data is available for project and network assessments as well as pavement management systems.
How to choose a road surface profiler
Selecting a pavement profiler requires analysis of performance specifications such as vertical range, vertical resolution, lateral extent, lateral resolution, scan or lateral length, scan rate, and part diameter or width. The vertical range is the range of surface textures or peak-to-valley distances or heights that the surface profilometer can measure. Vertical resolution is the minimum profile height resolution that can be achieved with a pavement profiler. The lateral extent is the spatial extent or linear extent that the instrument can measure over the entire sample or surface. For pavement profilometers that measure surface roughness, the pavement profilometer is parallel to the surface of the part. Lateral resolution is the smallest profile peak, valley or pitch resolution available. Scan or lateral length refers to the entire distance over which the stylus is optically scanned or drawn for data collection operations. The scan rate is the speed required to optically scan or drag the stylus over a lateral length during contour data collection.
The main benefits of a new generation of road surface profiler
1. Pavement profiler quickly screens all network segments
2. Pavement profiler runs at traffic speed, so traffic management is not required
3. Pavement profiler provides real-time data collection, analysis and storage, saving valuable engineering time for data post-processing
4. Texture lasers can simultaneously collect IRI / RN and macro texture data in one run
5. Automatic monitoring of laser readings ensures high quality data
6. Highly accurate, repeatable and reproducible data for pavement profilers, allowing data to be used in PMS
7. Modular system, easy to maintain, service and upgrade
8. With the GPS option, all data can be georeferenced for drawing in a GIS system
The technology of the road profiler is constantly evolving. Please collect relevant information before purchasing the pavement profiler for yourself. If you are looking for a reasonably priced high quality road surface profiler, NANJING T-BOTA SCIETECH INSTRUMENTS&EQUIPMENT CO.,LTD can provide you with the best products.